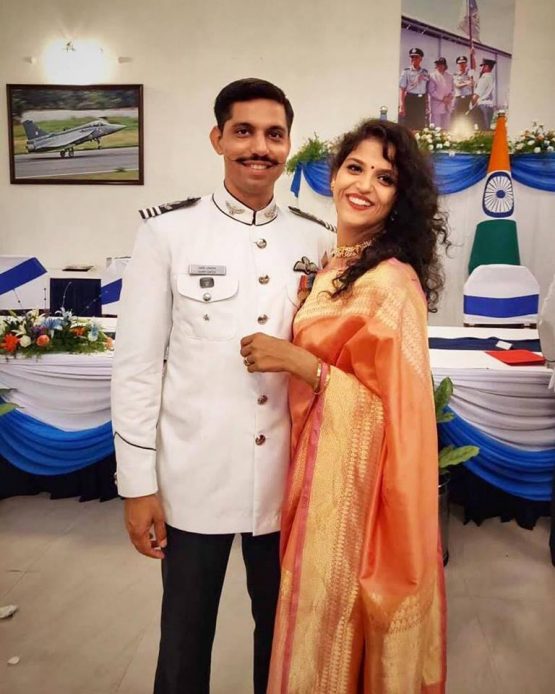 Two IAF Pilots – Samir Abrol and Siddhartha Negi have been martyred in plane crash recently. There is a very big question arising from the planes they were flying were outdated and now Samir's wife Garima has been raising some valid questions under #lostpilots movement in social media. Let us see what Samir had once said: 
"If our country is worth dying for our country in time of war let us resolve it is truly the worth of living for in time of. Our nation will remain the land of the free only so long as it is the home of the brave. Coz patriotism is not outburst of emotions on national holidays, but dedication of a lifetime."
– Martyr Squadron Leader Samir Abrol written in his Facebook status on 15th August 2013.
Squadron Leader Samir is no more in this world with his Pilot Body or Mind or Identity – but his name with martyrdom has been written in history of a great sovereign nation India. Every Indian feels proud to be the citizen of such a great republican nation which is proud to have its own free astute at the cost of great and brave soldiers who work for nation day and night without caring about their own lives, relatives and anything except the safety of the entire nations and its billions of citizens.
Samir's wife has written a status on Facebook, it fill s tears in anyone's eyes and compels to find the answers of some questions she has asked. Garima has written her status within some days of Samir's martyrdom and she also has shared his commitment as shared above.
"I am Garima Abrol…..I am the wife of Martyr Squadron Leader Samir Abrol….whose tears are still not dry…It still hasn't sunk in that you are gone. No one has the answer to my questions. Why YOU ?
My husband was a proud Indian and i loved sending him off to serve the nation with a morning cup of tea and a head held high.
Every soldier's wife's biggest fear in life is when her husband would be called to the front line and serve in an active war. I too had this fear. Many a times I woke up crying after having one such bad dream…But Samir would hold me, console me and tell me…that is the ultimate purpose of his job…to be able to serve our nation when the call comes…He wanted me to be brave, as that's what he was, a brave soldier, patriot to the core.
Such is the job of a soldier…it does not bring you fame…no one cries when you leave but the family…It does not make you a celebrity…the media covers it for a day and drops it just like they have done for the pilots who have met the same untimely fate before Samir…Then everyone forgets about it.
How many more of these pilots have to give up their life to shake you up and make you realise there is something really wrong in the system? 
A pilot is not made in a day, it takes a decade of training for their souls to get molded for the job…How many fighters have to give up their life for you to wake up?
I do not want any other sister of the Armed Force family to suffer the pain that I am going through. Words can't describe how painful it is out here alone without my better half, my BATMAN.
I need answers…
Whilst its just another story and incident for some, i will keep fighting for the cause that took you away from me."
Garima's status and pain have shaken thousands of people, her status itself has been shared by almost 6000 peoples on Facebook. The question has a very positive worth. Garima wants more justice from the system. What should happen for such martyrs – how country should pay back – how should we memorize these brave martyrs who readily fight and pay their lives without any lust or returns in their lives. The government and the peoples – all need to ponder on such grave questions put by Garima.
Garima has written herself:
And as he fell from the sky onto the ground,
With broken bones ; all but a black box was found.
His ejection was safe but parachute caught fire,
Shattered the family and all that he desired
Never had he breathed so heavy, as for the last time,
While the bureaucracy enjoyed its corrupt cheese and wine.
We give our warriors outdated machines to fight,
They still deliver it with all their prowess and might.
Once again a martyr was killed,
As he fell from the sky onto the ground.
Unforgiving & thankless is a job of a test pilot
Someone has to risk it to show others the light
Proud of my husband
Fights on always my BATMAN !!
जय हिंद